A space where multiple mediated voices talk about the media and its centrality in everyday life. A space where the media and its work in culture, politics, economics, and ethics is critically discussed. A space where scholars, students, producers, and consumers speak the unspeakable and engage with the challenges of a multiply mediated society. A space where the presence of multiple voices in a single discourse is acknowledged and respected. A space where criticism is practiced with the spirit of plurality and hospitality.
Друзья,
продолжается набор в Международную школу мультимедийной журналистики РИА Новости. Это совместный проект РИА Новости, Интерфакса и ГУ-ВШЭ как академического партнера. Приглашаются специалисты, уже имеющие диплом о высшем образовании в любой области (приветствуются языковые, экономические, юридические, IT специальности). Продолжительность обучения - 10 месяцев, по окончании - диплом гособразца и возможность трудоустройства в агентствах. Обучение по вечерам, с 19 до 22 часов (можно совмещать с работой), 4 дня в неделю, из них два дня - в ньюсруме РИА Новости. Во время учебы иногородним предоставляется общежитие. Обучение платное, 150 000 рублей, но платежи осуществляются по частям. На сайте есть адреса выпускников программы, можно связаться с ними, расспросить о впечатлениях. Пишите, с удовольствием отвечу на вопросы. Помогите, пожалуйста, узнать об этой Школе тому, кому это будет интересно, кто, возможно, хотел бы перебраться в Москву и связать свою жизнь с журналистикой. Татьяна Тихомирова, +7-909 631-86-83, ID в skype: sera-femme
Your RaceWire Racial Justice Viewing Guide for Harry Potter and the Half-Blood Prince
by Anusuya Sivaram

Since I'm possibly the intern most excited about seeing Harry Potter and the Half-Blood Prince tonight, Channing asked me to give you guys a basic rundown of some racial justice themes we might see tonight, just like we did with Star Trek. I originally wrote this guide for internal use, but we're putting it up for everyone to enjoy. Also, spoilers ahead — so for those of you who haven't read all the books/seen the previous movies, read with caution.
And for those who say that "there's no race issues" in a fantasy movie about predominantly white teen wizards — maybe your crystal ball is dusty? As much as Jeff Sessions hates to admit it, there's no such thing as 'race-neutral.'
Themes of Racial Justice that appear in the 6th book specifically (and will hopefully come up in the movie):
-The portrayal of terrorists/criminals. In the magical world of J.K. Rowling, Death Eaters, who are predominantly "purebloods" use terror tactics, as opposed to the pluralistic "Order of the Phoenix", who don't. In contrast, our mainstream media gives more airtime to terrorists and criminals who are people of color, rather than white domestic terrorists/criminals. It's an interesting reversal that perhaps needs to be contextualized more, given the allegory. It's also an interesting historical shift as well.
-Structural racism. The Ministry of Magic's regulations on magical species (Centaurs, House-Elves, etc) that prevent them from using magic is analogous to structural racism in our Muggle World. Though this only plays a small role in Book Six, it's interesting to see the reversal that takes place—from campaigning against the societal position of House Elves and other magical creatures, Harry and his friends start rely on these creatures (Dobby, Kreacher, Firenze), and seem to espouse their subordination as long as they are treated benevolently.
-Merit based achievement vs. Favoritism. This is especially important with the arrival of Professor Slughorn (the formation of the "Slug Club", which rewards the privileged). Also the fact that Muggle-borns often have to work harder for everything than purebloods (Hermione Granger, though brilliant, simply doesn't command universal respect like I think she should.), should be of some interest to us. This is also relevant under structural racism, as minorities (Muggle-born wizards) don't have well-established avenues to recourse in the magical world (there's limited infrastructure for Muggle-borns being introduced to the Magical world for the first time), and must rely on the benevolence of wizards. Harry's status is also questioned—he's just lucky, not talented, but reaps the benefits of his position, intentionally or not.
-The origins of racism/discrimination. Tom Riddle (Lord Voldemort) and his origins are a major plotline in the novel. Rowling's theory of discrimination mainly discusses individual racism, while structural racism is what ARC concentrates on eliminating. Also, Rowling emphasizes love as a way to combat intolerance (Dumbledore says this is the reason why Harry isn't like Voldemort)--you can interpret this to mean pluralism is better than purity. Still, it's important to recognize that while Rowling's magical world is amazing (who DIDN'T want to go to Hogwarts when they read the books?), it's still stratified, and faces the same problems of equity and pluralism that our world does.

Read more.
A teaser:
In a world of unipolarity, both win through co-optation, reconciliation between enemies, and the demonstration that the gains of cooperation outweigh the gains of resistance.
Here's an interesting article regarding the reigning king of rap, and how lessons on his rise to power have a lot to teach us about foreign policy, international relations, US hegemony, and the top-to-bottom approach of power and media.
Indeed all this new hoopla may be a positive thing, but as advertising often has a hidden agenda, what are these new campaigns, such as
OneTama
,
AkoMismo
, and
IAmNinoy
, not saying? Where is the substance to corroborate their do-gooding style? And how does the audience respond? What does this response tell us about identity and nationhood?
Do these campaigns engage the people by talking to them or talking at them? How do they change the face of what it means to be a Filipino today? And for all of their shortcomings, is our little country all the better for their existence?
The ultimate question: What genuine impact do these campaigns create?
I'm interested in hearing your thoughts.
In the meantime, here's an interesting commentary by the original
Akomismo
.
With the youth getting more and more engaged in sociocivic activities, and political unrest rising, marketing gurus have jumped onto the bandwagon of promoting nationhood and belonging. We are no longer constrained by geographic boundaries, but according to one guy, "the depth of our aspirations" as Filipinos.
"...these celebrities don't portray Africa in a positive light. This continent suffers from a very severe PR problem. The world is asking us as to raise our children in an environment where we're constantly told that we can't do anything—we're poor, we're dirty, we're impoverished, we're hungry, we're corrupt, we're war-torn, disease-ridden. Ask any psychologist: that's not a formula for generating innovators and entrepreneurs. And I don't see celebrities out there saying: "Let's bring in more investments; we can show you African doctors and teachers and lawyers and people participating in their country." What I see is a perpetuation of the negative stereotype of Africa, which I think is problematic. That's not how Africa is going to become an equal partner on the global stage—which, ultimately, is my goal. And you don't get there by being portrayed as second-rate, desperate, hungry." (Dambisa Moyo, 2009)
Read the rest of the article
here
.
African economist Dambisa Moyo points out that how her continent is being represented in the outside world negatively influences their ability for survival and independence. Her thesis is that the road to Africa's development is blocked by aid -- and lots of it. A taste of the article:
Not Quite What I Was Planning
is a collection of such memoirs by writers, famous, and obscure. It is an interesting, often funny, often profound concoction of identity, reflexivity, and brevity. Couldn't help but notice how many of these memoirs are intimately tied up with national identity and diaspora, so I decided to post some of them here. Email me if you want more of the book.
Most Turkish Kurd, most Kurdish Turk.
(Yasar Kemal)
Man of the world = illegal immigrant.
(Rajat Suri)
American backbone, Arab marrow, much trouble.
(Rabih Allamedine)
Mixed blood. I am America's future
. (Holly Santiago)
Chinese? American? Chinese-American? The confusion endures.
(Paul Chin)
Asian, white trash Scranton. Let's Polka.
(Jeannie Lee)
There are more pithy sentences involving gender, place, and a whole bunch of other things.
There's even one memoir in here by former Sanggu President Omi Castanar: "Forgot to say I love her." (page 140).
Taking after that famous anecdote about how Ernest Hemingway wrote his shortest story in six words,
Inspired by Habermas' (mythical?) depiction of a cafe culture engaged in lively debate, the Popular Communication Public Sphere: Media Studies Summer Seminar Series aims to provide a friendly yet critical forum discussing key issues concerning media, technology and popular culture today.


Scholars, graduates/undergraduates, and industry people gather once a week for eight weeks this summer to dissect journal articles, present works-in-progress research, watch and discuss movies, and perform other media rituals together.

Regular and irregular participants are welcome. The typical format consists of discussions done over dinner and drinks. The first meeting will be held on 2 April, Thursday. The PCPS group will meet in various sites in the city every Thursday 730PM from the first week of April until the last week of May.

Some of the topics to be covered include (but are not limited to):
1) Media Studies, A History
* What exactly have we learned after 50-plus years of our discipline's existence?
* Keywords: media effects, media power, agency

2) Creating a Canon: Our Gods and Monsters
* Whose works are the most cited in the field and why?
* Who's Who: Williams, Hall, Katz, McLuhan, Ang, Morley, Lewis, Livingstone, Silverstone, McChesney, Peters

3) Issues 1: From Media and Identity to Media and Relationships
* At the Boundaries & Belongings conference, Mirca Madianou and Danny Miller predict a movement in the field from studies of individual consumption and appropriation of media to studies of relationships and their transformations as a result of media and communications technologies. What explains for this trend? What new methodologies, if any, are required?

4) Issues 2: What's New About New Media?
* How do we rethink concepts such as production/consumption, publicity/privacy, dialogue/dissemination, participation/disengagement in the new media environment?

To confirm participation, contact:
Jonathan Ong
M.+63917 527 8094
E. jo296@cam.ac.uk

Tin Aquino
M. +63916 767 3573
E. tintin.aquino@gmail.com
Facebook Group.
Facebook Event Page.
See you there!
We are pleased to inform you about the launching of the Ateneo
Cultural Laboratory of the Department of Sociology and Anthropology in
Summer 2009. The Cultural Lab, which will run from 20 April to 15 May
2009, is a three-week intensive program that will train participants
in using sociological and anthropological perspectives and methods in
the documentation, interpretation and analysis of social and cultural
assets. It will cover a week of classes in field methods, research
design and data analysis techniques, and two weeks of fieldwork in a
particular community and data processing and analysis.

To ensure that data and insights generated through the Cultural Lab
will lead to concrete action in the community hosting it, the program
will work closely with the local government unit and other relevant
groups in and out of the community. For the first year, it will take
place in Tayabas, Quezon Province to provide Fundación Santiago, an
NGO specializing in community development, with solid data that can
help unlock Tayabas?s heritage tourism potential.

The program welcomes incoming senior college students in the social
sciences, arts and humanities, management, and the natural sciences;
graduate students; non-academic professionals; and the general public
interested in Philippine culture and society. Non-students who
register in the course will be issued a certificate of completion.

Thank you very much for your kind attention.


THE DEPARTMENT OF SOCIOLOGY AND ANTHROPOLOGY
ATENEO DE MANILA UNIVERSITY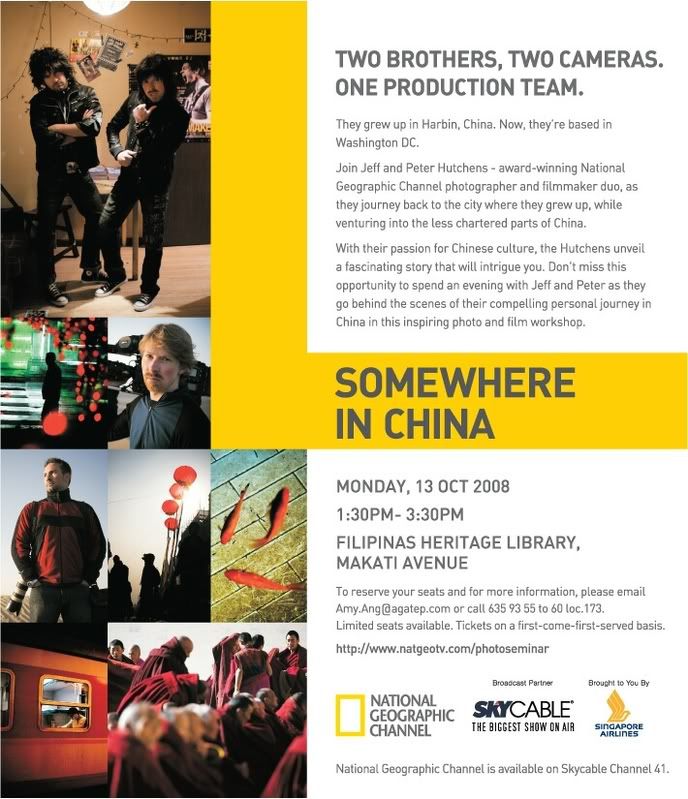 Somewhere in China

by the National Geographic Channel
With the eyes of the world focused on China after the successful Beijing Olympics 2008, National Geographic Channel (NGC) gives viewers a more in-depth look of this mega-country – through the eyes and lens of award-winning photographer and filmmaker, the Brothers Hutchens. Dubbed Somewhere In China, this 6-part series uniquely captures the old China blending with the new. It also spans across the nation – from western China to the Yangtze to that of Inner Mongolia, all the while capturing the beauty and the essence of the place in a thought-provoking, soulful and yet emotional set of documentaries. Peter Hutchens is a well-respected filmmaker, the youngest and only first-time filmmaker to produce a program for the acclaimed series Wide Angle. His photographer brother Jeff has won multiple awards in the National Press Photographers Association in the U.S., and has gone on assignment for the New York Times Magazine, Time Magazine and CNN, among other organizations.
Both brothers will be in the Philippines to recount the key difference in the major changes of China through their eyes. Their visit in the Philippines will also highlight video clip screenings and a photo exhibit of their travels.
The Brothers Hutchens will be guesting on Mornings@ANC on October 14, Tuesday, 9 am. Watch them share their thought-provoking stories of China and its resilient people in a live interview with TJ Manotoc and Ginger Conejero.